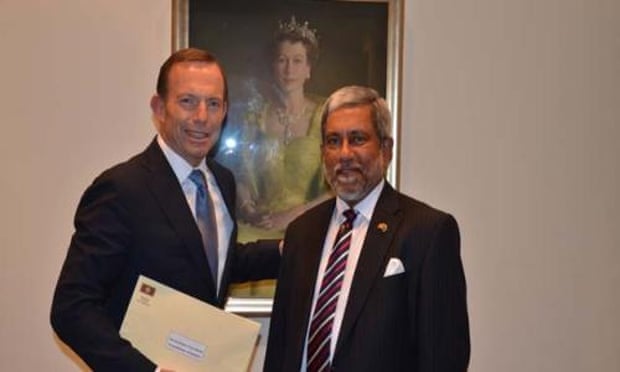 The purge is part of a global restructuring of Sri Lanka's foreign service. New president Maithripala Sirisena, who defeated incumbent Mahinda Rajapaksa in a shock result in January, campaigned on a promise to recall ambassadors he saw as political appointments.
Reports in Sri Lanka said the list of those summarily removed included "relatives of politicians and of public officials closely connected to those in the former regime".
The Sri Lankan high commission in Canberra confirmed the diplomats had been recalled.
Both of the diplomats with Australian connections attracted controversy, both relating to their positions and actions at the end of Sri Lanka's brutal 26-year civil war between government troops and the separatist Liberation Tigers of Tamil Eelam army (the Tamil Tigers).
In 2009, in the war's final phase, Kohona was foreign secretary, and was in contact with leaders from the LTTE.
On the penultimate day of fighting, he sent a text message, via an intermediary, to a senior LTTE operative regarding surrender: "Just walk across to the troops, slowly! With a white flag and comply with instructions carefully. The soldiers are nervous about suicide bombers."
The LTTE fighter, and a colleague, surrendered the next morning. They were reported dead within an hour of surrendering.
Kohona has always firmly denied any wrongdoing. He has said in interviews that while he sent the text message, it was not part of surrender negotiations, nor a guarantee of safety. "Absolutely not. This would be have been way beyond my authority to promise," he said.
Kohona is a dual Sri Lankan-Australian citizen, a former Australian diplomat and trade negotiator for Australia's Department of Foreign Affairs and Trade.
He has served as Sri Lanka's permanent representative to the United Nations since September 2009.
Thisara Samarasinghe was appointed high commissioner to Australia after a 37-year career in the Sri Lankan navy, which culminated in his postings as commander of the navy's eastern and then northern areas, as well as naval chief of staff, during the final years of the war.
In 2011, the International Commission of Jurists Australian section submitted abrief of evidence to the Australian federal police alleging Sri Lankan naval ships fired on civilians who were fleeing fighting in Sri Lanka's north-east at the end of the war. The ships, the brief argued, were under Samarasinghe's command.
The brief did not allege Samarasinghe was involved in shelling, or gave direct orders to that effect, but the submission stated military superiors hold a responsibility for the actions of those under their command.
Samarasinghe denied the allegations. "There is no truth whatsoever of allegations of misconduct or illegal behaviour," he said.
"The Sri Lanka navy did not fire at civilians during any stage and all action was taken to save the lives of civilians from clutches of terrorists."
The Greens leader Senator Christine Milne said Australia's decision to accept Samarasinghe's credentials was flawed. "We have to now have a full and proper review into Australia's engagement with the completely discredited, anti-democratic, shocking regime that was the Rajapaksa government," she said.
The end of Sri Lanka's civil war saw especially brutal fighting, particularly in the country's north-east.
The United Nations, which is currently undertaking an investigation into war crimes and other rights violations allegedly committed at the end of the war, estimates 40,000 civilians were killed in the final months of fighting.
Sri Lanka's purge of Australian staff is substantial. The Canberra mission has lost more staff than any other worldwide. Four Canberra staff members, including the high commissioner, and two based in Sydney have been told their commissions will end next month and they are to return to Sri Lanka.
Across the world, Sri Lanka's foreign ministry recalled 27 heads of missions, and 51 diplomats in total.
Included in the purge were envoys to Pakistan, Japan, Russia, Thailand, Afghanistan, South Africa, Israel, Iran, and Turkey.
Further inquiries to the Sri Lankan high commission in Canberra were directed to the foreign affairs ministry in Colombo. Comment has been sought from the foreign ministry.