The exhibition "Impetus" at Saskia Fernando Gallery presents a selection of early works by Jagath Weerasinghe, one of the most important figures in contemporary Sri Lankan art.
The works in the exhibition explore themes of violence, trauma, and the breakdown of ethical and moral order.
One of the most striking works in the exhibition is "Shrine of the Innocents".
This installation was created in collaboration with mothers of the disappeared from Kilinochchi, and it consists of impressions of clenched fists on clay.
The fists represent the missing children of these women, who had willingly joined the Sri Lankan army.
The work is a powerful memorial to the victims of the conflict, and it also speaks to the ongoing trauma of the war.
Other works in the exhibition include woodcuts, paintings, and drawings that depict scenes of violence and destruction. These works are often characterized by their raw emotion and their unflinching depiction of human suffering.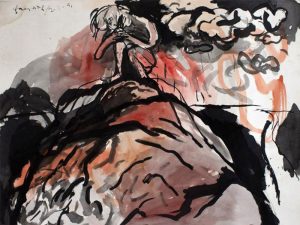 They are a testament to the power of art to bear witness to the horrors of war.
The exhibition "Impetus" is a major opportunity to see some of Weerasinghe's early work, which has not been exhibited in public for many years.
It is also a timely reminder of the ongoing conflict in Sri Lanka, and the need for peace and reconciliation.
In addition to the works of art, the exhibition also includes a series of interviews with Weerasinghe and the mothers of the disappeared.
These interviews provide insights into the artist's work and the personal experiences that have shaped it.
The exhibition "Impetus" is a powerful and moving exploration of the human cost of war. It is a must-see for anyone interested in contemporary Sri Lankan art or the history of the Sri Lankan conflict.
The exhibition is curated by Mariyam Begum and will be held at Saskia Fernando Gallery from 31 August to 30 September 2023.