In the latest Sri Lanka Opinion Tracker Survey (SLOTS) polling, SJB leader Sajith Premadasa's favorability rating has increased by 4 points to -44 points.
There has been a decline in the favorability rating of NPP/JVP leader A.K. Dissanayake by 15 points, and he is now at -44 points. Ranil Wickremesinghe's popularity rating remains unchanged, at 52.
The net favorability rating of NPP/JVP leader A.K. Dissanayake fell 15 points to -44 points in July, while SJB leader Sajith Premadasa's favorability rating increased 4 points to -44 points. President Ranil Wickremasinghe's favorability rating remained the same (-52).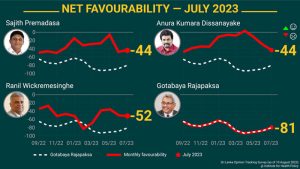 Favorability estimates for each month are based on 100 to 400 interviews conducted during that month and during a few weeks before and afterward to ensure a minimum set of responses. The July 2023 estimates are based on 367 interviews with Sajith Premadasa, 309 interviews with A.K. Dissanayake, 367 interviews with Ranil Wickremesinghe, and 154 interviews with Gotabaya Rajapaksa.
Methodology.
SLOTS surveys are based on samples of 100+ interviews pooled from interviews conducted in each month and from weeks before and afterwards.
Challenges facing Sajith
Although Sajith Premadasa's hard work and grassroots campaigning seem to be paying off, he is certainly facing a challenge from several factions within the party. Champika Ranawaka has already indicated that he is more interested in strengthening his own grouping, the 43rd Brigade. There is widespread speculation that a group led by former minister Rajitha Senaratna may move away towards Ranil Wickremesinghe.
Ranil Wickremesinghe may also make moves to strengthen his own party once he decides how he is going to handle the next presidential election. As veteran left politician Wickramabahu Karunaratna once pointed out, UNP leadership in the past has taken a dual form: a combination of two people complementing each other; DS & Oliver, Dudley & JR, and JR & Premadasa Sr.
A Ranil-Sajith combination is not impossible, and the capability of Ranil Wickremesinghe to create such a situation where Sajith will have to give in and move on cannot be ruled out easily.
On the other hand, many former UNP stalwarts who are now with the SJB due to lack of an alternative may exert pressure on Sajith to join hands with Ranil. There would also be a group from the moderate power elite who would argue that, given the shameful performance of the Rajapaksas, it would be better for the country to eliminate the possibility of creating a power vacuum where the Rajapaksa clan could make a comeback. They would further argue that the only way to avoid such a situation is a Ranil-Sajith alliance.
Conclusion
The political situation in Sri Lanka is fluid, and it is difficult to say with certainty what the future holds. However, recent polling data suggests that Sajith Premadasa's popularity is increasing, and he is seen as a viable candidate for the next presidential election. However, he will need to overcome the challenges posed by the factions within his own party and the possibility of a Ranil-Sajith alliance.-Nanadana warnaweera.