Minister of Environment Mahinda Amaraweera said that his colleagues in the cabinet have agreed to come to work by bicycle.
While the opposition is ridiculing this move as a political stunt the minister said that plans are underway to implement the proposal.
"From the moment I submitted this Cabinet paper, all the Ministers from the President onwards supported it. We talked about it for about 40 minutes. Everyone said that in developed countries people ride bicycles." Said Amaraweera.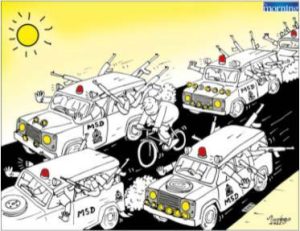 He said that the program will be implemented step by set and initially bicycle parking lots will be set up in government institutions and facilities to wash up and change clothes will be set up. Amaraweera said financial assistance to purchase bicycles will be provided and when giving promotions bicycle use to work will be considered at promotion interviews.