Sri Lanka's master tea blender Delmah has come up with a new blend to attract tea drinkers who sip their tea with great passion. The hand-picked tea brand has been promoted as closer to nature, made from a Single Estate Ceylon Tea.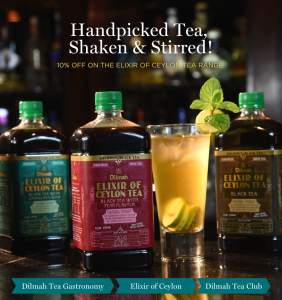 "The Dilmah Elixir of Ceylon Tea is made from freshly hand-picked tea leaves. It's the only tea concentrate made from 100% Pure Ceylon, single estate tea. The fresh tea is made into a high-quality extract within hours of handpicking ' said Delmah.
The company offers free Shipping On Orders Above US$59. Merrill J. Fernando is the founder of Founder of Dilmah.
"My family tea has grown into an international brand that is enjoyed in over 100 countries. Dilmah owes its success to the quality of Ceylon Tea. Our business was founded therefore on an enduring connection to the land and the communities in which we operate" said Fernando.
The global tea market reached a value of US$ 22 Billion in 2021. Looking forward, IMARC Group, a leading market research company, expects the market to reach US$ 30.3 Billion by 2027, China is the market leader in tea which is followed by India, Kenya, Sri Lanka, Turkey, and Vietnam.