A meeting venue for those of the high up's in Colombo has now been converted into a community library. Lakmahal, at number 8A, Alfred House Road, Colombo 3, has undergone many changes since.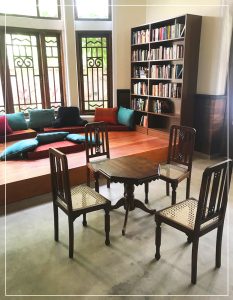 The modern brown varnish doors and decor give an elegant look to the community library. The cool-cut cement floor gives a radiant look.
Young Anisha Dias Bandaranaike wanted to have a place for people to read in a relaxed environment so she thought that it would be good to share a space with books and like-minded people.
She wants people to come and talk.
The dining room where the elite dined in colonial times is now a reading room. The library is open every Friday, Saturday, and Sunday from 10:00 a.m. to 7:00 p.m. Library membership is LKR 500 per month and LKR 5,000 per year.