The demand for king coconut water is growing but Sri Lankan producers are finding it difficult to meet the demand. The industry of king coconut and coconut water is targeting a one billion turnover for this year and the coconut development board is encouraging to promote king coconut as a home garden palm.
Hela Coco Energy has been reaching out to several markets with its key product, 100% natural bottled King Coconut Water.
Currently, king coconut is exported to 8 countries around the world. King coconuts are a rich source of B-complex vitamins, amino acids, and electrolytes, which are minerals like potassium, calcium, sodium, magnesium, chloride, and phosphate.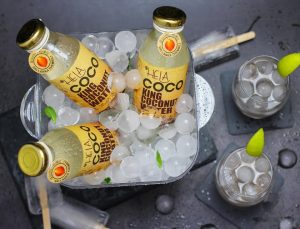 The liquid within the King coconuts has more magnesium and calcium than an orange, and more potassium than a banana. It will naturally replenish the body's loss of electrolytes by sweating during exercise or any other type of exertion.
This helps prevent dehydration and fatigue. King coconuts contain bioactive enzymes which aid in digestion and help with the body's metabolism. Studies have found that water has antioxidant properties. The liquid contains trace amounts of natural sucrose, fructose, and glucose.