Sri Lanka's wedding industry seems to be bouncing back The bridal exhibition held at the Sirimavo Bandaranaike Memorial Exhibition Centre Colombo was a clear sign that the industry is resilient.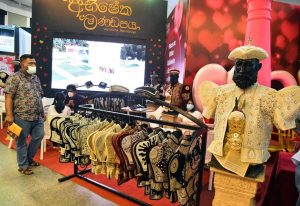 It was a dynamic event that created a spark within the industry that had been slowed down due to Corona restrictions will be at one platform of experts and professionals in the wedding industry.
The Wedding Show covered many areas of the bridal industry and provided the opportunity to meet with the host of local and international top professionals in bridal wear, beauty and hair, jewellery, flowers, decorations, cake stationery, food and beverages, planners and even the choice of photographers, honeymoon packages, etc.
The pent-up demand over the last two years is expected to drive a quick turnaround in the fortunes of the sector.