Akeem Kalugalla is an artist who could move around different traditions with ease while creating his sculptures.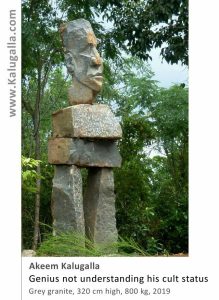 His artistic language relates to early 20th century German expressionism and French fauvism as well as to the post-expressionist and post-modern art movements of the 1980s and later. Some also find a bit of a pop art strain in it.
Akeem is most interested in the quest of modern urban women for an individual identity beyond the boundaries of convention and tradition.
Akeem is open to visitors on appointment.
Akeem lives on a hill 15 km north of Galle, less than 10 minutes by car after leaving the expressway at the Baddegama exit. From Galle Fort, it's a good 30 minutes' drive.
Visitors interested in contemporary art are welcome any time! Akeem will show you the roughly 200 works displayed in his villa, many of which are not shown on the internet.