Indian think tank Vivekananda Foundation points out that  President Ranil Wickremesinghe (PRW) is the man of the season and is well-positioned to guide his country out of the current mess.
Wickramasingha has a massive domestic and international agenda ahead and the Vivekanda Foundation Analyst points out that he is settling into his position.
"LPG is now available, fuel station chaos has reduced following the introduction of the QR code system, and the power situation is worrisome but better than a few weeks ago. There are positive indications in other sectors and it will be weeks if not months to go before the return of a modicum of normalcy"
Notes the foundation.
Ranil Wickremesinghe and India the foundation conclude that there are many indications of relations moving to the next level and greater positivity in indo-Sri Lanka relations.
The conclusion is based on the fact that Wickramasingha has been positively appreciating India in public now planning to visit India  It is also underlined by the analysis of the foundation that he feels secure in his job.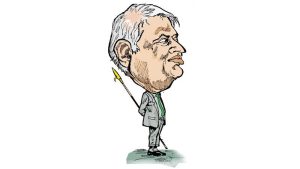 http://https://www.vifindia.org/august/29/2022/sri-lanka-current-political-situation