Environment Minister Mahinda Amaraweera quoting UN statistics said that The United Nations Sri Lanka had imported plastic goods worth the US $ 611.53 million by 2020 and its not surprising the sea around the country is polluted with plastics.
"Polythene and plastics have a major impact on the current environmental damage in our country. About 300,000 tons of plastics are imported annually. Of this, only 7.1% is recycled," said the minister.
Meanwhile toxic waste of the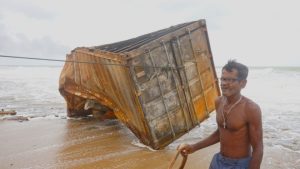 A recent UN report revealed a thin layer of toxic waste is seen around the coastline of Sri Lanka
The X-Press Pearl was carrying 81 containers of dangerous goods when it sank in June, according to its owner, X-Press Feeders. The 75 billion small plastic pellets known as nurdles has created a pollution crisis that could last for years and bring about severe destruction.
"This is the biggest environmental catastrophe to hit Sri Lanka since the 2004 Indian Ocean Tsunami," said Thummarukudyil Muraleedharan, the Operations Manager of the Crisis Management Branch with the United Nations Environment Programme (UNEP).
One container surfaced more than 100 kilometres south of the wreck, coating prime tourist beaches near the southwestern resort town of Galle with nurdles. "It was like a cluster bomb," said Hassan Partow, Programme manager at UNEP's Post-Conflict and Disaster Management Branch.
"This plan needs to be developed now so that when the conditions allow, the ship can be removed and properly decommissioned," said Partow.