Thousands of protestors have gathered in Colombo and are shouting slogans against President Gotabaya Rajapaksa while some others say that the President has moved into an army camp for safety. However the claims made by protesters have not been confirmed.
Many protesters are making their way to the protest venue and say that want to gain access to the President's office and will not leave until the President and Primminister step down.
The Police are using tear gas to prevent a build-up around the Presidents office and protesters are resisting these tear gas and water cannon attacks.
UN call
United Nations Office of the High Commissioner for Human Rights (OHCHR) has urged Sri Lankan authorities to show restraint in the policing of assemblies and ensure every necessary effort to prevent violence.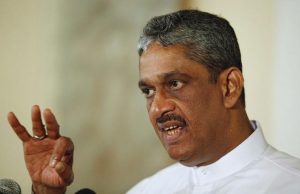 Security forces
Field Marshal Sarath Fonseka called security forces not to follow the orders of the top brass in the government and join the people to remove the country's rulers from power.
"Even though you are in uniform you must stand with the people," former military chief Sarath Fonseka told security forces.
Defence Secretary Rtd.General Kamal Gunaratne said that there has been information that certain elements were attempting to incite violence under the guise of peaceful protests.
Money printing
Mean while it seems that inflation may further increase as the Central Bank has been compelled to print money.
Central Bank Governor Dr. Nandalal Weerasinghe said that this isbeen done in order to prevent a total breakdown of fuel supply in the country, as the Ceylon Petroleum Corporation (CPC), does not have sufficient rupees to buy dollars for fuel purchases, Ceylon Petroleum Corporation has requested Rs. 217 billion from the Treasury for the purpose and the Treasury was unable to supply such a huge amount immediately