Julie Chung, the U.S. ambassador to Sri Lanka, tweeted that she was "deeply concerned" about the raid. "We urge restraint by authorities & immediate access to medical attention for those injured," she said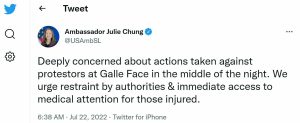 Meanwhile,  members of the civil society gathered in front of the Fort railway station in protest.  denouncing the dawn raid on the gall face protesters.Newly elected President Wickramasinha said that attempting to topple a government is not democratic, which was a word of caution to the protesters who had been congregating on the Galle face green.
At least nine persons had been arrested and among them are two lawyers.
security forces removed the protesters in a dawn raid, it is reported that a large number of Police officers and Special task forcers took part in the raid.
The Bar Association of Sri Lanka (BASL) has "strongly and unreservedly" condemned the raid.
Attorneys-at-Law who tried to enter the area have been prevented from doing so by security forces said the BASL.
Several journalists have also been arrested…
The BASL has called for an immediate halt to the "unjustified and disproportionate actions" of the armed forces targeting civilians.