Defence analyst points out that the arrival of Arleigh Burke-class guided-missile destroyer USS Fitzgerald (DDG 62) pulled into Trincomalee, Sri Lanka is significant. The US Navy Ship arrive on a port visit on March 13th and the ship is scheduled to depart the island on 16th March.
The 160m long destroyer will conduct several naval exercises with the Sri Lankan Navy.
In the early morning hours of 17 June 2017, this ship was involved in a collision with a container ship MV ACX Crystal, seriously damaging the destroyer. Seven of her crew were killed. Several others were injured, including her commanding officer, Commander Bryce Benson.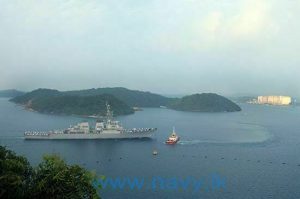 The ship has arrived in Sri Lanka at a time when the US is trying to ex[and its influence in the Indian ocean. This ship has the capability to serve as a ready-response force in support of a free and open Indo-Pacific region.