The long-awaited talks between Sri Lanka's finance minister and the International Monetary Fund (IMF) Have happened.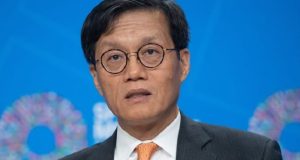 While the Opposition is organizing to hold a mass rally in Colombo on Tuesday the 15th to protest against sliding currency surging inflation fuel shortages.
IMF Asia and Pacific Department Director Changyong Rhee met Finance Minister Basil Rajapaksa to discuss how to start formal negotiations with the IMF in April on a possible programme that could boost reserves and put growth on a sustainable path.
Rhee will meet Sri Lankan President Gotabaya Rajapaksa on Tuesday and further explore possibilities. The Government has been criticised by the opposition for delaying talks with the IMF.