A recent study has revealed that the mountainous region in the central part of The climate change risk assessment conducted by using multi-ensemble rainfall projections developed by the Department of Meteorology (DOM) in Sri Lanka shows a marked change in annual average rainfall.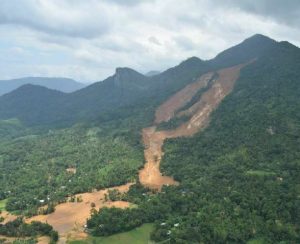 The analysis of landslide triggers due to excessive rainfall for the period 2040–2060 shows a high risk in the Grama Niladhari Divisions (GNDs) in Ratnapura, Kegalle, and Nuwara Eliya Districts.
Kandy District shows a high number of GNDs having high- and low-risk landslide potential, while Badulla District shows a higher number of GNDs with low-risk landslide potential.
Due to fluctuations in projected extreme seasonal rainfall, the river basins of Attanagalu Oya to Nilwala Ganga may be prone to heavy seasonal floods. Maha Oya, Walawe Ganga, and Kirama Ara river basins may experience moderate floods during the southwest monsoon and inter-mon soon